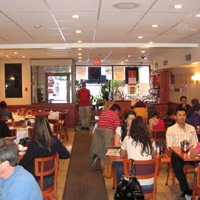 Bars and restaurants are perfect for video surveillance because they are susceptible to many different risks. A constantly revolving customer and employee base, along with high rates of theft are common among bars and restaurants. A smartly installed video surveillance system can help prevent theft and improve safety and restaurant image.

Benefits of Restaurant Surveillance Systems
Prevent theft: As crowded as most establishments can become it is hard to keep an eye on everything.
Reduce fights and violence: Security cameras can help prevent fights in crowded bars and in the event of violence, help to identify the responsible parties.
24/7 Monitoring: A restaurant DVR surveillance system can broadcast footage over the internet, allowing you to check up on your restaurant or bar at anytime. This is perfect if you need chain restaurant surveillance – you can check up on multiple locations without having to be in multiple places at once.
Keeping an eye on your business is imperative, and will help improve productivity.
Either your looking for a simple system for your deli or a more advanced system for a restaurant or bar we have the right solution for you, we offer free onsite survey and provide customized solution for your business needs. Contact us at:704-405-2800 or email us.

Return To Installation Services